Do you fancy adding another attraction to your farm park? There are many farm parks up and down the country that have branched out to include loads of exciting, engaging activities for kids and adults alike.
But sometimes, branching out can require more resources than you actually have. You may find yourself struggling to find the money or space to add something new to your site. Battery track rides from Leisurematic are the ideal solution if this problem crops up. All you need is a little space and you get something that keeps kids coming back.
A new addition to your farm park is an excellent way to get new visitors and make old ones want to come back. It gives you an excuse to make a bit of a song and dance, too. You can get in touch with local media and let as many people as possible in the local area know that you've got something new for them to enjoy.
How are battery track rides easier than getting other attractions?
They require little space – at Leisurematic, we have options to squeeze in where space is most limited. We supply the track as well as the rides themselves, and our most compact offering needs an area of only 5mx4m to get up and running.
They require zero maintenance – that's not because they're magic or self-fixing or anything like that, it's because we'll take care of all of that for you. If anything goes wrong with your rides or track, we'll be along as soon as we can to get back in tip-top shape. At no charge, too!
They won't cost you a penny – that's because we're so confident that they'll be a hit. Instead of asking you to pay a rental, installation or servicing fee, all we ask is for a pre-agreed share of the money that goes into the rides. So, you get a brand new attraction for your farm park, money that the rides take all without putting any of your own money in.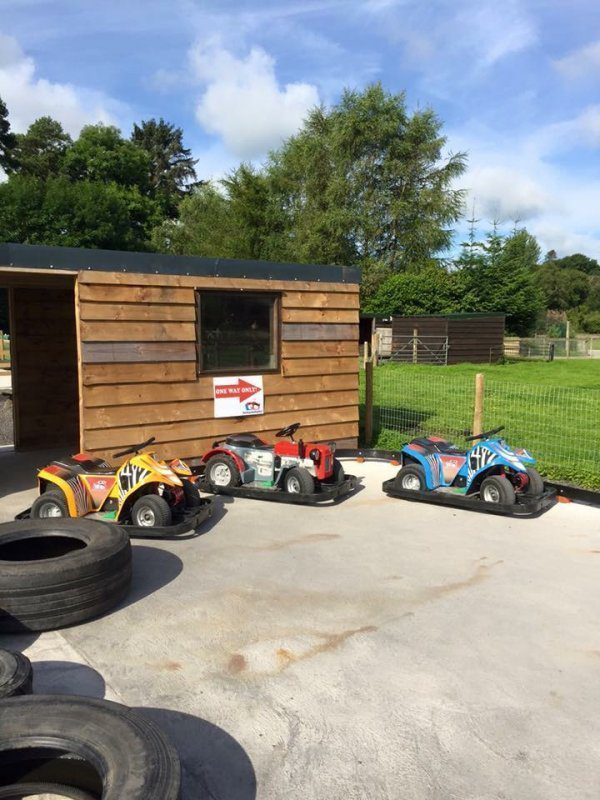 Coin operated battery track rides and track, as supplied to the amazing Lake District Wildlife Park
What coin-operated battery track rides are on offer from Leisurematic?
Our stock is constantly expanding, so you'll have to make sure to keep an eye out for new rides as we add them. All of our rides can be used indoors or outdoors, it's up to you. For the moment, we currently have these rides on offer. Many of them in farm parks right now lighting up kids' faces.
Farm Animal Track Rides – perfect for farm parks. Kids will have seen the real deal earlier on, now they can race each other around the track on cow-back.
Ride-on Tractors  – larger track rides that perfectly fit with any farm park. Kids will jump at the opportunity to play farmer for a while.
Battery Quad Kiddie Ride – made especially compact to fit in small spaces, this ride also features a parental seat for added safety. You can order these in your park's colours or with a specific theme so they match the rest of your park.
So, with a coin operated battery track ride from Leisurematic, not only will your farm park have a new attraction, but a new source of income.
There's plenty to think about if you're interested in adding a track and rides to your farm park. We'll help you figure out what will be best for your site, from the best number of rides to have, the size of the track, to what ride will work best. We have plenty of experience sorting sites out, so can use our knowledge of what's worked best to help you.
Want to find out more about our track rides? They're suitable for more than just farm parks too, they add competitive fun for kids at almost any location. Why not get in touch with Leisurematic today to find out more about our battery track rides. Give us a call on 01228 595071 to speak sooner.