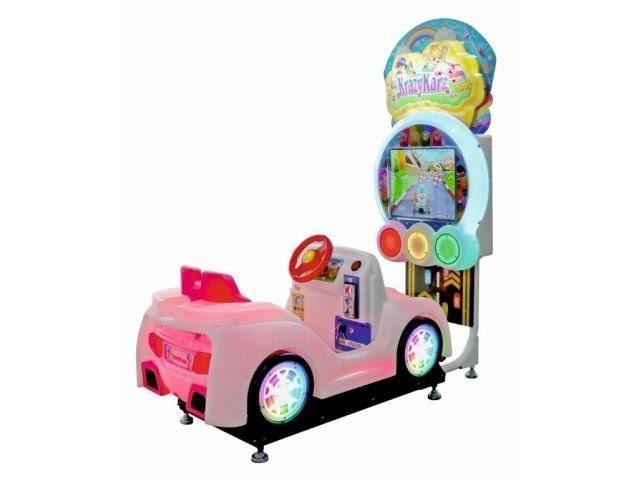 Sometimes, even the most enjoyable games or experiences can get stale. Play something again and again, and eventually, you'll run out of new things to discover. If you have a kiddie ride on your premises, one surefire way to prevent kids getting bored of it is to add an extra element.
Making something competitive can add hours and hours of fun. That's why teenagers spend hundreds of hours of their lives playing the same video games over and over with internet strangers. Because of competition. When you add that element to something you make it unpredictable. The game or ride may always do what you expect, but the second player? Who knows if they're going to be a walk-over, or if they'll trounce you?
That's why the next carefully-selected addition to the Leisurematic catalogue of coin-operated kiddie rides offers heated 2-player competition.
Krazy Karz was created by the company responsible for popular Leisurematic products, Go Go Pony and Dolphin Star, so you can be sure it's of the highest quality.
The machine combines kiddie ride and arcade game seamlessly in an irresistible package. Its colourful exterior features rainbows, cartoon characters, and multi-coloured LED lights illuminating the entire vehicle. These all come together to make it unmissable and massively appealing.
It's available either as a single unit or as two so you can take full advantage of its multiplayer capabilities. Even if you go for one machine at first, two separate ones can be linked, so there's nothing to worry about if you decide you want to bring 2-player fun to your premises later on.
Once kids are in the ride, it will be the closest they've been to driving a real car (at least we hope). Krazy Karz features a receptive steering wheel to mimic the feel of a real car, as well as sound effects and bobbing motion to make kids feel like they really are racing along as the car on-screen.
The ride comes with the option of blue or pink seat, so children having a go can choose their favourite colour. Once on the game, they have the choice of two cars to race with.
Krazy Karz has performed incredibly well on Leisurematic site trials, so we're certain it will be a big hit on your site. It offers excellent replay value as kids will be eager to beat their friends or siblings, parents will have to tear them away!
As with all Leisurematic products, Krazy Karz is available for purchase or on income share. With income share everything, including delivery and installation is free. All we ask is for a pre-agreed share of the profits.
Fancy adding a bit of competitive fun to your site? Whether you own a shop, leisure centre, or any other kind of site, Krazy Karz is sure to do just that. Why not get in touch to find out more about our new Krazy Karz kiddie ride? Or give us a call on 01228 595071 to speak sooner.