Kids love it, parents have mixed feelings about it, and it's perhaps the biggest kids TV show around. It's PAW Patrol. If you don't have children, then maybe this brightly-coloured juggernaut has passed you by thus far, but since 2013 the Canadian-made TV show has grown in popularity to rival the likes of Peppa Pig.
The series follows Ryder, a 10-year-old boy, who for some reason is responsible for leading Adventure Bay's emergency services/search and rescue team. In addition to this, Ryder is also inventor of all of PAW Patrol's gadgets, which maybe goes some way towards explaining why his parents are nowhere to be seen. The search and rescue team is the eponymous PAW Patrol, which of course, is made up of 6 dogs.
That child and 6 dogs take care of all the emergency services in Adventure Bay. All of them.
The 6 PAW Patrol dogs are:
MarshallA clumsy dalmation that takes on the roles of both firedog and medic. Because of his two jobs, he has a fire truck that transforms into an ambulance.
RubbleRubble is an English Bulldog that serves as the group's construction dog. He fixes damaged buildings and other things with his big yellow bulldozer.
ChasePAW Patrol's police and spy specialist dog is, predictably, a German Shepherd. He has a police car and uses his spy gear to track missing people.
RockyHe is a mixed-breed dog that operates as the team's recycling dog. Rocky has a recycling truck that can also turn into a salvage tugboat when needed.
ZumaA brown labrador who is the team's aquatic rescue pup. So, of course he has a hovercraft that doubles as a submarine.
SkyeThe sole girl of the group, a cockapoo that handles the team's aviation needs. She flies a helicopter and has a special backpack with wings built into it.
This bunch of aptly-named dogs adventures normally start when Ryder receives a call from one of Adventure Bay's distressed residents. He then calls the pups to action via their high-tech dog tags, after which they get down to working out how to save the day.
With what exactly PAW Patrol is cleared up, here are some things even the most frequent (and possibly reluctant) viewers might not know.
You've seen its creator's work before
The idea for PAW Patrol came from TV producer Keith Chapman, and while the animated show is made in Canada, it's mastermind is British.
And PAW Patrol isn't the first hit TV show he's been responsible for. Early on Chapman worked for Jim Henson International in a role that included designing characters related to the Muppets. After that, he went on to devise the hugely successful Bob the Builder which went on to earn around £1 billion in international retail sales.
So, it's probably safe to say that he knows what he's doing when it comes to making marketable kids TV shows.
It's shown all over the world
Nearly as widespread as Peppa Pig's 180 countries, PAW Patrol is currently shown on television in 160 countries. Starting life in Canada on TVOKids, it was picked up by Nickelodeon in the USA and was partly responsible for Nickelodeon's ratings growth in 2014.
Today it enjoys huge international success, being translated into Portuguese, Mandarin and even having separate voice actors in the UK.
It's worth a lot of money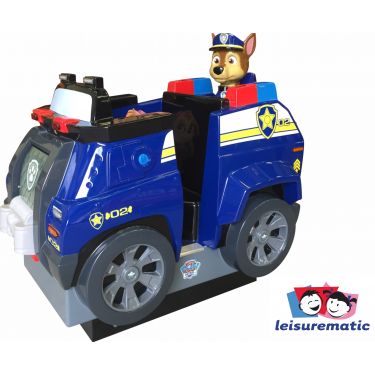 All kinds of shops stock PAW Patrol merchandise. A quick Google reveals branded pyjamas, cutlery, vehicles art sets and more.
So, maybe it's not that surprising to learn that in 2015 alone, PAW Patrol merchandise brought in $245 million (£173 million). It makes sense that something popular enough to crack 160 countries
There's something unusual about the voice actors
Most of the voices in the show are provided by actual children. Now, that may also be the case for similar shows like Peppa Pig, but plenty of other kids' TV shows have featured well-established grown-up actors, like Neil Morrissey in Bob the Builder.
Using child actors is probably more of a risk for producers as they don't have years of professionalism under their tiny belts. But in the case of PAW Patrol it seems like it may have contributed to its success.
Parents really do have mixed feelings about PAW Patrol
It makes sense that having to sit through hours of television created specifically for children can have a jading effect. But still, PAW Patrol seems to be particularly polarising.
A quick Google search for the show will reveal various blog posts and articles criticising the show. From parents fed up with inexplicable plot points – why doesn't Ryder go to school? Why are there no human emergency services? Etc – to Buzzfeed calling it a "terrible kids show", PAW Patrol attracts its fair share of vitriol.
Still, that doesn't seem to affect its popularity at all and PAW Patrol looks set to go from strength to strength. Much to children's delight, and yours, maybe not so much.
Whatever you think of it, you can't deny that PAW Patrol is a hugely successful and recognisable brand. You could take advantage of that popularity with one of Leisurematic's PAW Patrol kiddie rides. Kids will flock jump at the chance to take a ride with Marshall in his fire truck or in Chase's police car.
If there's anything interesting or funny about PAW Patrol you think we left off, or you want to enquire about a PAW Patrol kiddie ride get in touch.